Anthropology is the study of all humans in all times in all places. But it is so much more than that.
"Anthropology requires strength, valor, and courage," Nancy Scheper-Hughes noted. "Pierre Bourdieu called anthropology a combat sport, an extreme sport as well as a tough and rigorous discipline. … It teaches students not to be afraid of getting one's hands dirty, to get down in the dirt, and to commit yourself, body and mind. Susan Sontag called anthropology a "heroic" profession."
What is the payoff for this heroic journey? You will find ideas that can carry you across rivers of doubt and over mountains of fear to find the the light and life of places forgotten. Real anthropology cannot be contained in a book. You have to go out and feel the world's jagged edges, wipe its dust from your brow, and at times, leave your blood in its soil.
---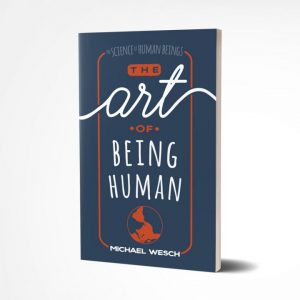 The Book
The textbook for this course is The Art of Being Human, available for free in pdf format, or if you prefer a bounded copy it is available for $16.99 on Amazon.
In the book I share many of my own adventures of being an anthropologist and what the science of human beings can tell us about the art of being human.
---
How this class works:
Anthropology is not just a body of facts.  It is a way of seeing the world that can be valuable regardless of your career path.  Mastering the anthropological perspective takes practice, so this class proceeds from a simple truth:
You can't just think your way into a new way of living.
You have to live your way into a new way of thinking.
So each of the lessons is paired with a challenge that allows you to put the new ideas and perspectives into action, challenging you to talk to strangers, see the strange in the familiar, break your habits, see past your assumptions, see "dialectical relations," get uncomfortable, understand people who are different from you, see how the world is connected, and ultimately to see yourself as a hero and write your manifesto.
Each lesson involves three steps:
Read the lesson chapter and watch the lesson introduction video.
Watch or listen to the recommended additional materials.
Take the challenge and post your result to Instagram.
Your instructor might have additional readings for you as well as required quizzes and discussions.  Check your instructor's official syllabus for details.
---
Getting Started with Instagram
To participate, just post to Instagram with the hashtag #anth101 + the hashtag of the challenge you are submitting (e.g. #anth101challenge1).  If you are participating in a class that has a specific hashtag, you can add that as well.
If you would like more anonymity or if you would like to keep your main Instagram account separate, you can add a second Instagram account just for this class (a "Fake Insta" ("Finsta") or as we like to call it, an "Anthsta").  Here are Instagram's official instructions for adding a second account:
Go to your instagram profile on your phone and tap the menu button in the top right
Scroll to the bottom and tap Add Account
Enter the username and password of the account you'd like to add
To switch between accounts you've added:
Go to your profile
Tap your username at the top of the screen
Tap the account you'd like to switch to
---
Course Overview: The 10 Lessons
The course is organized around 10 Big Ideas that you can learn by studying anthropology.  Laid out in sequence they read almost like a manifesto:
---
Your First Assignment: Introduce Yourself
Login to Instagram.
Post a selfie that best represents you and introduce yourself to the class
Tag it with #anth101 #anth101introductions and your group hashtag if you have one (your instructor will inform you of your group hashtag)