What is a story?
A story is not the same thing as a topic.
Topic: I'm doing a story about X.
Story: And what's interesting about it is Y.
Plot: This happened then this happened … the sequence of events
Theme: Why it all matters.  The point.  The message.
Story = Topic + Plot + Theme
Jessica Abel's Story Formula:
This happened ______________, then this ______________, then this ______________, and then you wouldn't #$%&*! believe it but _____________.  And the reason that this is interesting to every single person on the face of the earth is __________________.
---
Ira Glass on Finding a Story:
The amount of time to find a story is often longer than producing a story.
"If you are not failing all the time you are not creating a situation in which you can get super-lucky."
To find stories, you have to master the art of noticing …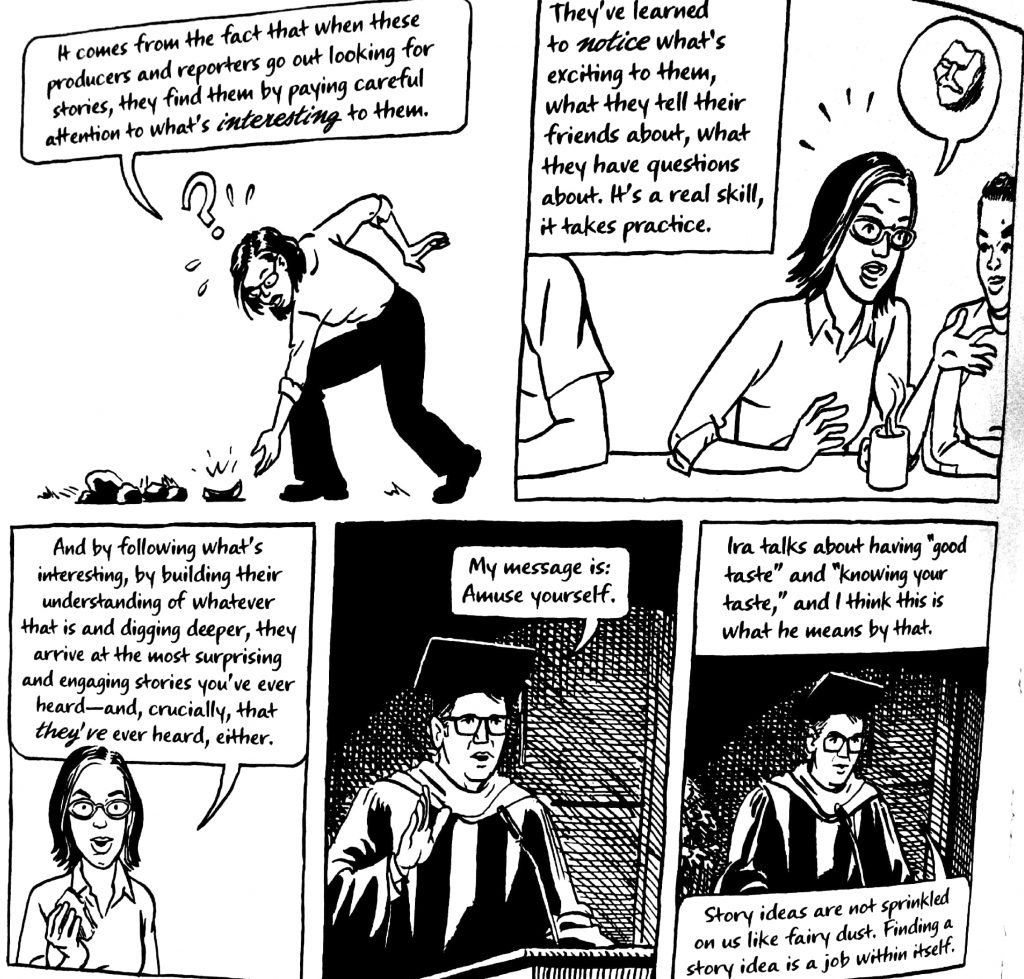 (from Jessica Abel's Out on the Wire)
---
How to Brainstorm Ideas
Establish a writing routine … spend time thinking about it.
Write what you know … 1:35
Game of opposites … Flip existing ideas 2:00
Watch other films … and think about how you would do it differently 2:45
Carry around a magical notebook to remember your great ideas 3:16
Research 4:04
List your resources 4:35
Keep it simple 5:02
Live a little 5:42
The Restriction method
Practical Considerations:
Access
Budget
Resources
Time
Existing Projects
---
What makes a good story?
Conflict
Dramatic Moments
High stakes.
A reason to care.
Sympathetic characters
Characters are tested, grow and change
A Theme, Point, or Lesson
Story vs. Plot
Story: What happens and why it matters or means – emotional value
Plot: How it happens – the logic of what happens – cause & effect
Your project needs both + a theme.
What's a theme?
Theme: the message, lesson, or point.
Not just a topic
How to find it?

Look at how your character changes and what lessons can be learned
Examine the core conflict, what happens, and what it might means
Don't be vague or cliche'
---
Next Challenge: A Very Short Story
Your challenge will be to write a single paragraph that establishes your topic, story, plot, and theme.  The paragraph should be a short story in and of itself and serve as a setting off point for your journey toward a more complex and complete story later in the course.
On Thursday we will discuss story structure. Until then:
Brainstorm your final project and lock in on a topic.
Explore compelling story possibilities within that topic.
Identify key themes that you might like to explore or express.
And, check out the playlist for this week: